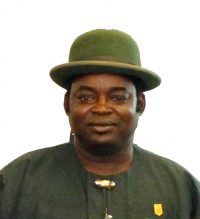 SURV (DR.) EBISINTEI B. AWUDU fnis, mni
Surveyor General of the Federation
Born on the 25th June, 1961 at Lobia, Southern Ijaw Local Government Area of Bayelsa State, Surv Awudu fnis, mni had his primary education at Methodist Central School, Ikang, Cross River State and his Secondary education at Government Secondary School, Ukubie in Bayelsa State, where he passed the West African School Certificate with Division One in 1980. After a brief time as a Science Tutor at Community Secondary School, Foropa in Bayelsa State, he proceeded to the to the River State University of Science and Technology and obtained a Bachelor of Technology Honours degree in Land Surveying in 1986 as well as a Master of Science degree in Public Administration from Imo State University in 2008. Similarly, he attended the Senior Executive Course No. 26 of the national Institute for Policy and Strategic Studies (NIPSS) Kuru – Jos in 2004 where he was elected the Deputy Monitor-General. In addition, he holds two Doctor of Philosophy degrees (Honoris Causa) in Administration and in Humane Letters respectively. He is a fellow of the Nigeria Institution of Surveyors (NIS) and has been a Registered Surveyor of the Federal Republic of Nigeria since 1991. He is also a fellow of three other professional bodies and a member of over five professional institutions both national and international.
Surv Ebisintei Bietoru Awudu fnis, mni has served as Board member in some Federal government agencies including the Governing Council of the Federal School of Surveying (FSS), Oyo; Nigerian Geological Survey Agency representing the Surveyor General of the Federation and Surveyors Council of Nigeria for over 15years amongst others.
Before his transfer of service from the Bayelsa State Civil Service to the Federal Civil Service, he had served in over thirty committees in Bayelsa State in various capacities including being Vice Chairman, Bayelsa State Land Use Allocation Committee; Secretary, Bayelsa State Boundary Committee and Member, Bayelsa State Infrastructure Advisory Committee. He was also Chairman of the Yenegoa Primary Roads Committee. It is worthy of note that he is the first Registered Surveyor of Bayelsa as well as its pioneer Surveyor General.
In 2003, through persistent hard work, the Survey Department of the Ministry of Lands and Housing, Bayelsa State was upgraded to extra ministerial status called the Office of the State Surveyor General and he was also elevated and sworn-in as the Surveyor General/Permanent Secretary. This upgrading made the Office to become the first Extra-Ministerial State Survey Department in Nigeria, thus earning him a position of the first Surveyor General/Permanent Secretary of a State in the Federal Republic of Nigeria. Surv Awudu fnis, mni was also the pioneer Chairman of the forum of State Surveyors General of Nigeria and maintained that position for over ten years. He was a Consultant Surveyor in the Oil and Gas industry from January 1987 to July 1998, after a meritorious and fulfilling work experience with Geodetic (Fugro) Surveys Limited.
As a purposeful and focused Director of Planning, Research and Documentation Department, of the Office of the Surveyor General of the Federation, he initiated and concluded some topical professional and technical issues in the Office, such as the Revision of the Scheme of Service for Surveyors in the Civil Service of the Federation; the inclusion of graduates of Hydrography, Cartography, Remote Sensing, Photogrammetry and Geographic Information Systems in the Surveyor Cadre of the Scheme of Service of the Federation; the commencement of the preparation of a draft policy on Surveying and mapping for the country; the restructuring of the Office of the Surveyor General of the Federation (OSGOF) into more departments and units in line with Civil Service Reforms and emerging professional and technological advancements as well as the conclusion of the initial determination of the Seven transformation parameters for Nigeria from WGS 84 to Minna Datum and vice versa.
In recognition of his services to the nation and humanity, organizations and nations rewarded him with various awards. These include – Israeli Flag Bearer award by the Israeli Government in 2014; Radio Bayelsa Distinguished Personality award in 2012; the most distinguished Surveyor General of the year 2011 award by Nigerian Top Leaders magazine; President, Boys Brigade of Nigeria, Bayelsa State Council 2007 – 2010; Award of Chosen Men by the Apostolic Army Churches Worldwide and Winning Bunting Global Outreach (WIBGO); International Gold Service Award by Rotary Club of Trans-Ekulu Enugu (Rotary International District 9140) in 2009; Business Reports International Merit Award (BRIMA) for Distinguished Public Service Excellence in January 2006; Special Merit Award for Excellence in Management Intelligence by Nigeria Who is Who in Management Intelligence in September 2006; African Role Model Leadership Gold Award by Africa International News Magazine in October 2005; 2002 Productivity Merit Award by the Bayelsa State Government for the Permanent Secretary Category; Certificate of Honour by Committee of Friends Lobia in 2000 amongst others.
Furthermore, Surv Awudu fnis, mni is a philanthropist, a purpose driven man and an accomplished member of the Pentecostal Fellowship of Nigeria (PFN) who had given so much for the well being of the church and humanity.